Tafelbier Brew Day
A few weeks ago we had another "brew day". This is basically where I invite people over during a brewing session. One might think that the presence of others would make the process go more quickly or more smoothly. Unfortunately, neither are true. But they do provide good and entertaining company and help me drink the stockpile of beer in the cellar. Unlike the last brew day, only two showed up, although we did have some stragglers – folks that live in my neighborhood – stop by, too.
The brew of the day was Hump's Farmhouse Table Beer – a Belgian-style Tafelbier. It's finished fermenting, and I've been meaning to keg it for several days now but just haven't gotten around to it yet. It will be a mighty good thirst quencher after it's carbonated. It has a decent bitter citrus quality to it thanks to fresh orange and lime zest (not to mention some oranges and lemons – peel, pulp, and juice). It will be a nice refreshing brew, low enough in gravity to pound a few pints without being worse for the wear.
Part of the brewing fun is, of course, drinking good beer with good people. First up on the roster were the homebrews on tap at the time:
Hump's Red Bedlam – Nectar. Lovely, hoppy, complex, malty goodness. An "India Amber Ale" as I like to call it.
Hump's "Welcome to the World!" Wit – A coconut-pineapple Witbier. Refreshing and intriguing. Did I mention delicious?
Hump's Toucan Stout – Holy smokes is this smooth. A dangerously drinkable "Foreign Extra Stout". It's on the high side of the style which makes it awfully close to "Imperial Stout" territory.
Next in the line-up were a few commercial brews:
The final beer we tried that day was the brew we had made at the previous brew day: Hump's La Brabonçonne Grand Cru. This beer has turned out nicely. It is very malty with a dry and spicy nose followed by a surprisingly sweet flavor – that is far from cloying thanks to a dry (and well-attenuated) finish.
Here is a pic of the Tafelbier, fermenting away. Next to it is the bottle of my favorite brew consumed that day: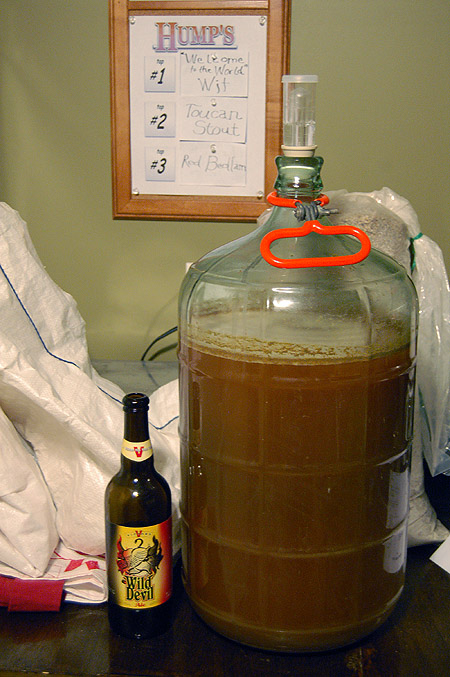 Regal Bitter
This past weekend, I cooked up another tasty brew. Like the last batch, this one too is a low-gravity beer, expected to end up not much higher than 4% abv.
This one is a low-alcohol interpretation of an American Amber Ale. And not just a plain ol' amber, mind you, but a west-coast-style hop-bomb amber!
Into this low-gravity brew I added a good bit of Centennial and a dash of Amarillo hops. Both are known for their pleasant and very citrusy flavors (lots o' grapefruit). Since it's a small beer, almost all of the hops were added late in the boil to insure a balanced (and not overly-bittered) product. Like all beers I make with lots of aroma hops, the fermentor smelled wickedly awesome – percolating away while the pungent wreak of resiny hops reels up.
Punjabi Pale Ale and Company
I've been working on beer labels this week. I've actually finished them all. I'm now caught up. I've got a label for every beer I've brewed (except this latest one – but it's still in the primary fermentor, so it doesn't really count).
I think I'm most fond of the label for my most recent English IPA: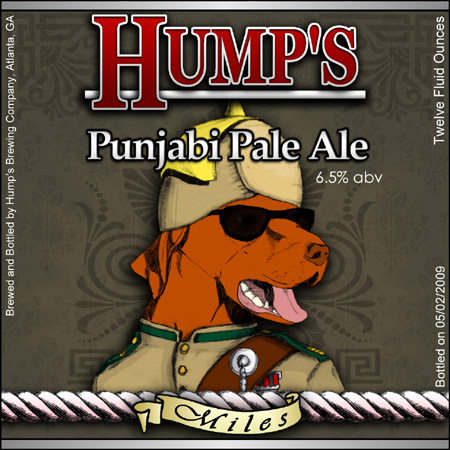 I hope no Indian takes offense at the name or imagery. I do know that the Punjab region straddles both India and Pakistan and that more Punjabi people live on the Pakistan side, but I was struck by an image of Punjabi army men and thought it would make great imagery for an India Pale Ale. You'll see there are rather obvious similarities with the outfit that Miles wears in the label above.
I also actually tasted this brew for the first time in a while. It's been out of a keg and in bottles for quite some time. I broke out some for sampling Sunday night with a couple of friends. It was much smoother than I remembered. The almost-overpowering flavor of floral and earthy hops had settled down. Also, the aroma was much more pleasant and less vegetal than I remembered. Age in the bottle has served this batch very well. It was delicious.
Another recent label that I rather like is a special label for my coconut-pineapple Witbier. It was brewed to honor the birth of my newest son, Ewan.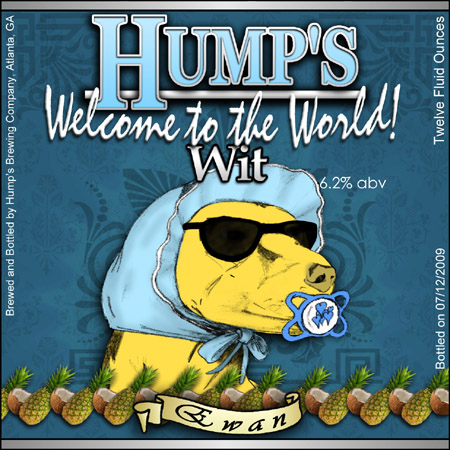 Tasty Tidbits
And now a summary of a few other remarkable commercial brews that have found their way to my palate:
I still have some more tempting morsels in the cellar, too. Hopefully soon I'll be able to post some notes on Stone's 13th Anniversary Ale (double IPA), Great Divide's 15th Anniversary Ale (oak-aged double IPA), Dogfish Head Sah'tea (new interpretation of old world Finnish fermented beverage), or Allagash Confluence (funky Belgian-style specialty brew).
And now for your moment of Zen: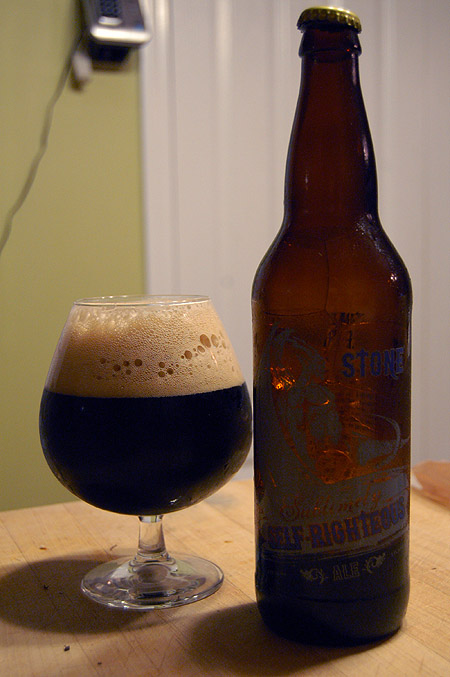 One Response to "Tafelbier Brew Day, Regal Bitter, New Labels, etc."
on August 13, 2009 at 12:43pm

Oh my gosh, that label for the "Welcome to the world" Wit is amazing! If you ever need someone to print these up for you quickly on waterproof, self-adhesive material just let us know. We love helping homebrewers print high-quality labels for their brews!
Leave a Reply