Posted by Josh on March 27, 2009 at 11:34pm
2009/03/14
I had a few friends over the other day to celebrate the inaugural batch for my new brewing sculpture: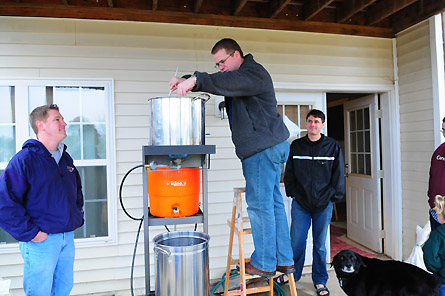 It is a three-tiered metal frame with two built-in burners (one high for the hot liquor tank, the other low for the kettle). Currently, I use a step-ladder in order to measure the water in the hot liquor tank and check the temperature. The ladder also makes it a little easier to work with the mash tun as I can reach down instead of up.
We turned the brewing festivities into an impromptu picnic. Unfortunately, much time was spent inside because of the crummy weather. Cleaning up was a huge pain because it began to really rain heavily. I was so soaked that the jacket I was wearing was still wet after hang-drying all night.
The beer we brewed should turn out delicious: Hump's "La Brabonçonne" Grand Cru. It is a Belgian-style dark strong ale. The first beer we opened, prior to starting the brewing operations, was one of the beers that inspired this recipe: Gouden Carolus Cuvée Van De Keizer. The beer we brewed won't be quite as strong (only ~9%abv, not 11%). But it will hopefully be similar in many other respects. The recipe uses sugar and a low mash temperature to make sure the beer is dry and drinkable. There are also a number of specialty grains and spices to keep things interesting. After brewing was completed, I tasted the wort, and it was possibly the best tasting wort I can recall tasting. I'm looking forward to sampling the finished product.
It has been fermenting for close to two weeks now, and it is still going strong. Strong fermentation began within 12 hours, and it only got heavier from there. After just over a day, it got so active that the krausen exceeded the headspace of the fermentor: in other words, it made a big yeasty mess everywhere.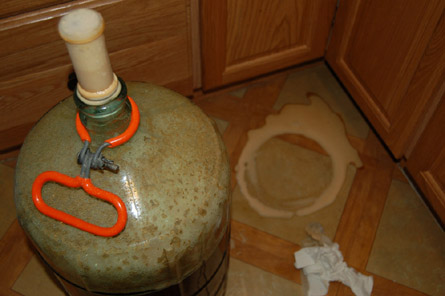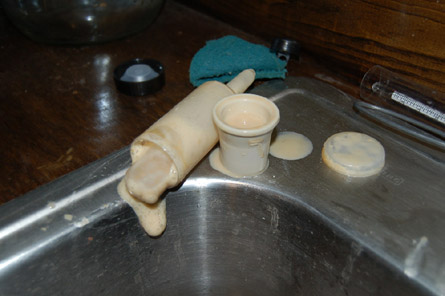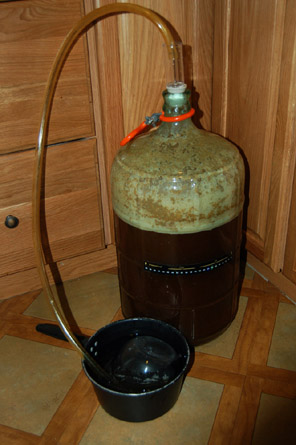 I put on a blow-off tube to prevent further incident. After a couple of days of steady but not excessive fermentation, I decided to remove the blow-off tube, put a fermentation lock back on, and move the carboy off the floor and on to the counter-top. Naturally, the next day fermentation went into overdrive – another yeasty mess to clean up. Luckily, Will was around to help clean up the mess.
It has been in steady and sometimes heavy fermentation since then. Occasionally when I check on it, I can see the krausen getting near the top again. Yesterday it appeared to have finally calmed down: over 24 hours with consistently medium krausen. With luck, I can transfer it to a secondary fermentor – or maybe even a keg – by Sunday afternoon. If I can't then I'll have to use a plastic bucket as a fermentor because I have a double-feature lined up this weekend.
Will, after helping to clean the carboy: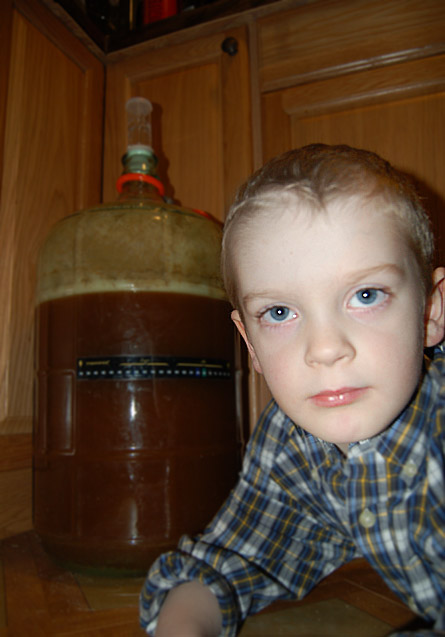 Next Brew Day: Double-Feature
That's right: I'll be brewing two batches back to back. This should be a good test of the brewing sculpture, which should enable me to cook two batches in only 6-7 hours (two batches would otherwise take about 10 hours).
Sunday will first find me cooking up an English IPA: Hump's Punjabi Pale Ale. I have high hopes for this recipe. I have lots of whole leaf Fuggles and Target hops for this one. It's a reformulation of Hump's Imperial ESB, which was an English IPA recipe that wasn't designed quite right.
While the English IPA is boiling, I'll be starting on a big ol' American Amber: Hump's Red Bedlam. This amber ale will be a bit bigger than you might usually find – perhaps India Amber Ale is a suitable appellation. It will feature some of my favorite American hops, Columbus and Simcoe.
This week, I've fashioned a new CPVC manifold for the mash/lauter tun. This one is built to actually touch the bottom of the tun – the previous one was rigidly parallel to the valve on the bottom of the tun which kept it off the bottom by about one inch. This one also has more linear length of drilled tubing, too, so it should flow faster.
New: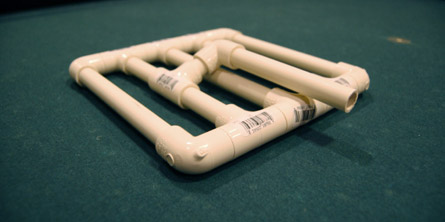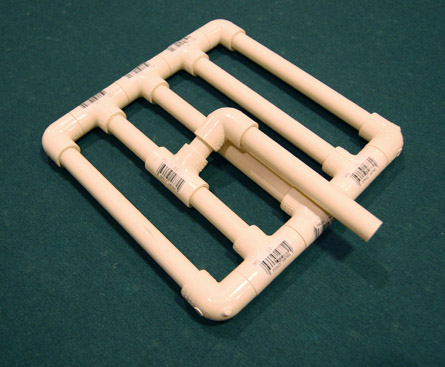 Old: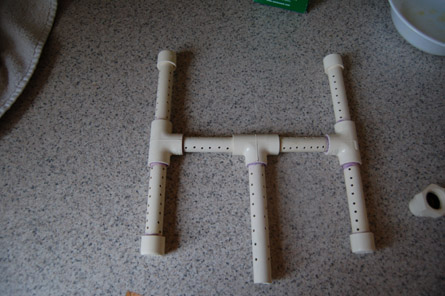 The other week, I didn't get a chance to use my new copper manifold in the kettle. I don't have it soldered together yet, so I didn't want to use it and then it come apart while cooking. So I'll be testing two new goodies this weekend: the new lauter tun manifold and the copper kettle filter manifold. I expect great things.
Leave a Reply