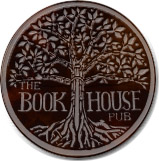 The other day we had a chance to have dinner at The Bookhouse Pub in midtown. It was a really cool place. Despite the fact that they have no kid's menu, there were several families there with small children – which we liked since we drag our 4-year-old and newborn wherever we go.
The place is very cool inside, has a nice ambiance (including a Logan's Run DVD playing on the television), a solid beer list (though not as impressive as The Porter or The Brick Store Pub), and an awesome food menu (maybe even better than The Porter's, though shorter).
Also, they have a sort of happy hour between 5pm and 6:30pm on weekdays where they offer numerous appetizers for only $3 and a few entrées for only $10. We had the smoked trout mac & cheese appetizer (awesome! and only three bucks!) and the hanger steak (even more awesome!! and only ten bucks!!). We had a great time.
Last week (starting 5/11) was my first week back at day-job work after being off for three weeks. Because the office is closer to it Brickworks than my home, a friend of mine and I dropped by during lunchtime last Wednesday. We didn't eat or drink, but took a quick look at the Five Seasons Brewpub location there (their third). It is open and serving food, but won't be pouring brewed-on-premise beers until this week or next I think. Our main objective was actually to check out the beer, wine, and homebrew-supply shop next door: Hop City. The folks there were really friendly, and they had some great brews to choose from.
Particularly good picks that I haven't tried yet but was excited to nab include these:
Struise Black Albert (expensive little sucker)
Three different versions of Mikkeller Single Hop IPA:
Nøgne Ø Dobbel IPA
Smuttynose Maibock
Sam Adams Long Shot 2009 (a sixer with two each of three different brews)
I haven't gotten into any of these great finds – in fact, I still have a fridge full of older selections (some still hanging around from my trip to LA last October). Next time I have beer geek friends over, I'll have to crack some of these (if they're not all gone by then…)
Our other recent adventures have been all about homebrews.
The English IPA, Hump's Punjabi Pale Ale, was the first to make it into a keg. This beer turned out great. It is a little bold, hoppy, and bitter for an English IPA, but the distinctly English hop varieties and yeast keep the flavor profile in style. This is frighteningly drinkable – almost session-beer like for a hop-head like me – for a strong brew (6.5%abv).
Next into a keg was our fine Belgian strong ale: Hump's "La Brabançonne" Grand Cru. This one is still a little green. It finished quite dry and thus very strong: 9.0%abv. It is still a bit warming with alcohol and the flavor of ethanol is a little too conspicuous. A few more months of aging and it will be nice. A year or two and it will likely be un-freaking-believable.
The final brew, sitting patiently for weeks on the counter-top, was a big American Amber – perhaps India Amber Ale: Hump's Red Bedlam. This is everything that it promised to be. It's big hop aroma and flavor from Columbus and Simcoe hops are simply bliss. The malt profile is bready, rich, and slightly sweet – which stands up well to the very bitter finish and warming strength (7.4%abv). This one might be my favorite on tap right now, but it's a close call between it and the IPA.
My fridge is once again full of crazy, hoppy goodness – a welcome sight after several months of low-hop brews (which were all good – don't get me wrong – but were unable to tickle my hop-funnybone, if you know what I mean).
I bought ingredients for the next batch a few weeks ago, but haven't gotten a chance to brew yet. I hope to brew this weekend (perhaps on Memorial Day). I'll be cooking up Hump's "Welcome to the World!" Wit. This crazy, refreshing beer – brewed to celebrate the birth of our newest son – will be the offspring of a ménage à trois involving a Belgian Witbier, a Belgian Saison, and a piña colada. If anything, it promises to be wild. With luck, it will also be delicious (a restrained hand when adding the pineapple and coconut will hopefully insure its drinkability).