Posted by Josh on March 29, 2011 at 9:55pm
The weekend before this last one (March 20th to be precise), I cooked up my 100th original recipe/batch of Hump's brew.
It finished fermenting in under a week. This past Sunday, I kegged it, and added 2.5 ounces of dry hops into the keg with it. It will still continue to improve as it extracts more and more volatile compounds from the dry hops. But, even after only two days (just long enough to get it adequately carbonated), I'm tasting it.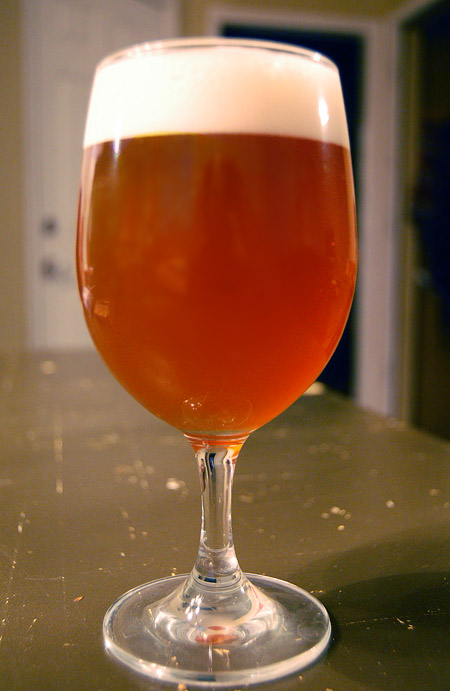 Wow. Delish. It is quite fine. Purty, too.
Hooch, Resurrected
I also managed to dig up a photo taken a couple of months ago of Hump's Hooch. This was snapped in a side-by-side, next to Sweetwater IPA (which was sort of inspiration for Hooch – though I think Hooch turned out even better than Sweetwater's brew).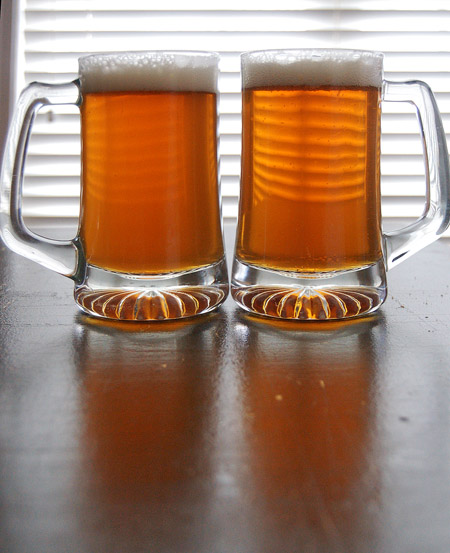 The one on the left (the hazier one) is Hooch. Sweetwater IPA is on the right.
Le Roi est mort. Vive le Roi!
The other weekend, while we were brewing Hump's 100, we finally managed to crack open the Big Bastard: a three-liter bottle of Stone Double Bastard.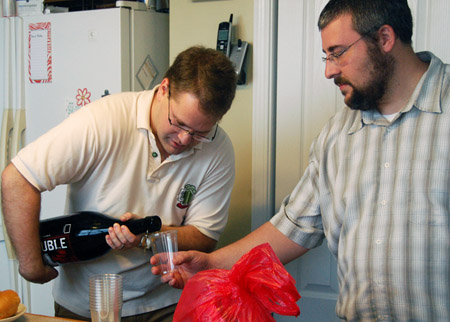 It was good.
And now I can re-use the bottle for homebrew. I have a big, bad-ass barleywine recipe that I call Hump's Ballroom Brawl Barleywine. I think it could be worthy of aging in this ludicrously over-sized bottle.
Leave a Reply