NHC 2010, Here We Come!
Two of our beers are entering the final round of judging in the National Homebrew Competition.
Hump's Back-Breaking Brown scored 41 points in the first round and netted us a gold certificate. It also got 2nd place in the Specialty category – which means we got a red ribbon. I'm totally stoked about this beer and hoping it continues to do well in the next round.
Hump's Irish Dry Stout scored 36 points – good for a silver certificate and a 3rd place (yellow) ribbon. I like this beer, but I'm not quite as excited about it because I just don't think it stands out as well as Back-Breaking Brown. I'm still keeping my fingers crossed though. After all, a medal in the Stout category would make me just as happy as a medal in the Specialty category.
The other beers entered (Hump's Old Humperdink Barley Wine and Hump's Yankee Doodle Brown) didn't place, but scored well enough to get silver certificates.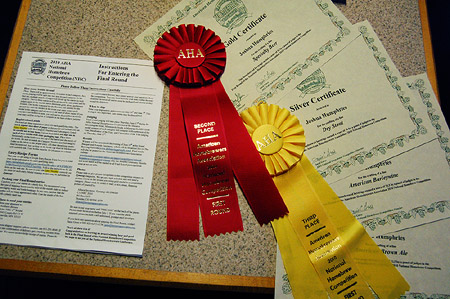 April 20th
Almost exactly one month ago, our younger son turned one year old. His mother and I celebrated by cracking open the last bottle of a beer that was brewed in his honor: Hump's "Welcome to the World!" Wit.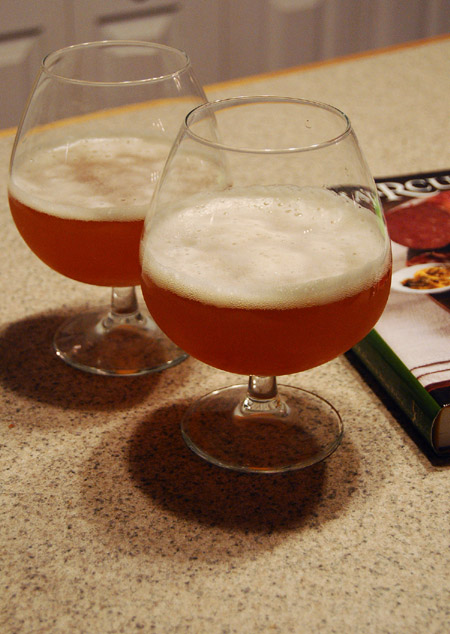 Recently Brewed
Over the past month I've made two batches of beer.
Hump's Cascade Pale Ale is a fine and delicious single-hop (Cascade) American Pale Ale. It has a wonderfully balanced bready malt character with just a hint of residual sweetness. It has a strong sweet orange citrus aroma and distinctly citrusy hop flavor. It finishes dry with a firm but balanced citrusy bitterness. A blend of hops would have certainly added some complexity to the very-orange hop character, but I was really going for the kind of citrus character that only a single-hop beer could provide. Ahtanum, Amarillo, or Centennial may have been good substitutes, but Cascade – being the stereotypical American hop variety – seemed just right for this recipe.
Hump's Jeroboam is a mind-bending Double IPA. It is made with all Magnum hops — Jeroboam is a wine term that means "Double Magnum" (aka 3 liter bottle; a Magnum is a 1.5 liter bottle). This brew is amazingly balanced and almost (dare I say) delicate from the unbelievably neutral and clean hop character that is Magnum. But it weighs in at nearly 10% (so maybe "delicate" is a poor choice of words). It has a pleasant, green hop aroma (from generous dry-hopping) followed by a rather complex and mesmerizing flavor. It is very strong and warming from the alcohol, but it also has various notes of spice (noble hop sort of spiciniess), fruit (touches of tropical fruit), and honey. It finishes very dry and firmly bitter – but a very clean and sublime bitterness.
On The Horizon
We are anxiously looking forward to hop-harvesting time this year. Two of our four hop plants (the Willamette and the Chinook) are really growing and are already producing wonderful-looking hop cones. The Horizon looks like it could provide a half-way decent yield this year. The Centennial, however, is looking pathetic. It had a strong start but has already stalled.
We will also be brewing again soon. I was really hoping to cook up a batch this weekend, but it looks like it will be delayed to next weekend. The next batch will be Hump's Saison – a no-nonsense Belgian-style farmhouse ale.
Fellow Brewer
A friend of mine from work (the day job, not brewing) has shared with me an interesting story of a guy he knows who recently made the switch from day job to professional brewing. His beers have just begun production (contract brewed at Thomas Creek for now).
I'm quite interested to pick some up once it comes to Georgia. Apparently, the guy has won awards for his homebrews (not unlike Hump's). It makes a nice story and is certainly inspiration for us to follow suit (though probably not anytime really soon…).
His brewery is named Bottle Tree Brewing. Check them out!
And Once Again…
Your moment of Zen.
I know, I know — this is a beer blog, not a Scotch blog! Forgive me once more for this distraction into the craft of distilling.
The most recent malt I've tried, Caol Ila 12, is a fantastic Islay malt. It is crazy smokey (like my other favorites from Islay), but it is also quite malty with just the right touches of sweetness. I'd place it somewhere between the Ardbeg 10 and the Lagavulin 16 (and a little less expensive than both).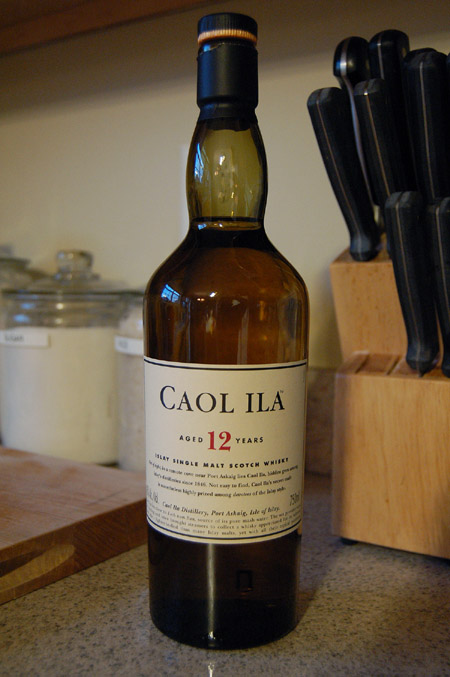 Leave a Reply