It's been a long time since I posted, so here's a novella for your Friday morning. (Okay, okay – I posted a couple of entries just a month ago. But it feels like longer since I have so much to share!)
Burton Baton

I just drank a new bottle of Dogfish Head Burton Baton and am now opening an old bottle (3 years old). My are they different. No offense to the old guy, but this beer is better fresh.
Admittedly, my three-year old bottle tasted "old" even when I bought it. My review of the beer from 2007 indicated a beer that was very malty and not particularly hoppy – definite barleywine territory (despite being labeled as an Imperial IPA). Three years have done nothing, obviously, for its hop presence.
The fresh stuff – still more like an American Barleywine than an Imperial IPA – is a wonderfully balanced, big, delicious beer. The old stuff has lost all pretense of hop aroma and is cloying in the nose.
The flavor of the old stuff is quite smooth and actually very good. But, man, is it sweet. It tastes like candy… malted barley candy. It has just enough hints of hops in various areas (subtle bitter fruit, subtle evergreen, subtle citrus orange) to balance the big-ass wave of candy-sweet malts. So it is actually drinkable – not too cloyingly sweet in flavor. But not drinkable enough to have a pint. It sits quite heavy in the gut (even the fresher stuff). That and the fact that it's a strong beer, make me reconsider the idea of opening two of them. Oh, well — I'll call it a nightcap and hope it help me sleeps…
Running On Empty
We had a brew day a few weeks ago, and it was very successful: our overgrown stock of fine beer was vastly diminished. We still have an absolutely silly amount of fantastic beers sitting around, but two homebrew kegs (out of three) now sit empty.
We will be filling one of them on Monday with Hump's Union Jack Bitter — the beer that we made on the brew day. It is currently sitting on a half ounce of U.K. First Gold hops and isn't due to come off until Monday.
The one remaining keg stores the remainder of Hump's Irish Dry Stout. I totally dig this beer, but I sort of miss not having a hoppy one around. And that's why the next two beers we're cooking up will be such a perfect fit.
This weekend we'll brew Hump's Cascade Pale Ale. If there ever were a stereotypical beer (other than the sea of stereotypical bland pale lagers), this is it: an American Pale Ale… made with Cascade hops. It seems that every brewpub has a beer like this — it is required fare for almost any craft/small brewer in the country. Is this kind of beer overdone? Nah…
I enjoy Cascade hops, and I love hoppy pale ales. We'll see if we can make something truly exceptional out of what amounts to the "apple pie and baseball" of American craft beer.
And after that we'll be making a truly special brew – another Imperial IPA. We may end up making it next week. (Is brewing back to back weeks insane? Didn't think so…) This will be no ordinary Impy though. It will be our first attempt at a single-hop Imperial IPA (our last single-hop brew, Old Humperdink, was a wonderful success). What hop variety you ask? Magnum. Were it a normal-strength IPA, we might call it "Magnum IPA", but this is a Double IPA. So what do you call a "double magnum"? A Jeroboam. So we'll call this one Hump's Jeroboam.
Perhaps we'll have an opportunity to empty our Jeroboam of Stone's Double Bastard and fill it with our own Jeroboam brew. Is it just me, or does that seem poetic?
Hot Liquor
We've now made a couple of batches using the latest gadgets added to our hot liquor tank. Back in December, I had a 15.5-gallon Sankey keg converted into a hot liquor tank. We chopped the top off (losing about 1 gallon of volume), added a thermometer, and added a spigot.
The latest gadgets: we put a down-tube on the inside of the keg, attached to the spigot. This means that we can extract almost 100% of the hot water since the tube pokes down close to the bottom of the pot. We also added a sight glass.
Having a nice hot liquor tank setup definitely takes some of the "chore" away from all-grain brewing. It makes it much easier to hit my dough-in temperatures and is easier-to-use to boot.
Competitions
We used our 5 Seasons Westside gift certificate (part of the prize for placing 5th in the BEERmuda Triangle Competition) the other day, sampling their Plan B IPA poured through the world's largest Randall: a conical fermentor packed with Willamette hops. Apparently, since the conical is so big, they just dumped a keg of Plan B into it after filling it with hops (it must have been either not completely full or very loosely filled with hops – because that seems like a waste of so much hops otherwise since most of them would have such little contact time with the beer…). They then opened the transfer valve on the bottom of the conical to pour each pint. It was a damn tasty pint. I was amazed by the fact that the flavor was not that radically transformed. I tried another sampler (just two ounces) of the normal Plan B that night, and the two tasted almost the same. The Randallized one was a little hoppier in aroma, but the biggest difference was actually the mouthfeel. The Randall must impart loads and loads of hop oils or other mouth-filling compounds, because it was very full-bodied. Chewy… but not in a bad way. Delicious in fact. Another big difference between the two versions of this IPA: the Randallized one was way cloudier.
Speaking of the BEERmuda Triangle Homebrew Competition, we entered brews into Georgia's Peach State Brew Off this year. The PSBO is an AHA-sanctioned event, so we got BJCP-certified feedback on the beers we entered.
How did we do? Old Humperdink received 45 points (!!!) and got honorable mention. I know, I know – I ask myself the same question. "How the hell did three other beers score better than 45?!?!?! Were the judges wasted?" Maybe… It was a record number of entrants, and I'd heard they were frantic to get a sufficient number of judges lined up for it…
We also got high marks for La Brabançonne. The scoresheet indicated that it also moved on to the Best of Show round. Back-Breaking Brown (my personal favorite) received good marks but not as high as I had hoped.
You can see the feedback I received on the latest page that I've added to this site: Contests (click Brews, and you'll see the link there).
We currently have four entries in the NHC. I believe the first round judging is supposed to take place tomorrow. To be honest, I almost hope that some of our beers do not make it to the second round because that means I get to keep the other bottles (which I set aside just in case they advance) and drink them myself (or with suitable company of course).
Hop Plants
Our hop plants are coming back this year and all looking fantastic. The worst looking plant is the Horizon plant, but even it looks to be doing fine. The Centennial, which did horribly last year and didn't produce a single flower, is looking great. The Willamette and the Chinook are off the hook.
We'll be getting hog-fencing and rebar this week to make a new, taller trellis for the vines to crawl up.
We were hoping to add another bed of hop plants to the garden, but – alas – no dice. Doug at Just Brew It only received orders for 7 rhizomes. Four of those seven orders were from me. Unfortunately, it costs him about $100 to ship the rhizomes as they must be sent very quickly and in temperature/humidity controlled transit so as to maximize their viability when they go into the ground. Doug's prices were already set much lower than the pro-rata shipping costs alone, so he couldn't afford to deliver. Doug was super-nice about it. He regretfully informed us of the situation, gave us store credit for what he'd already collected, and offered to give us a free potted hop plant from his personal garden. I politely declined the plant (though he may still bring it in to his store and try to give it me) because I didn't feel it was necessary – I completely understand and empathize with the situation. And it's not like anyone lost any money. Were I that set on having more hop plants, I could mail order them myself. But four is a fine number, so we'll stick with that… for now.
Scotch Whisky
The morning of brew day, I had a couple of birthday gifts to snag. So I headed to the liquor store. (Where else?!) I nabbed a nice bottle of beer and a nice bottle of wine for the two friends whose birthdays I had missed and while there nabbed a bottle of Scotch for myself.
I was hoping to find the Uigeadail expression of Ardbeg – a distiller from Islay. It was not to be found (and I've called a few other places around — it's just plain hard to find in this part of Georgia). But I did grab their flagship: Ardbeg 10 year.
This one packs a punch. It isn't as intense, medicinal, or crazy strong as the cask-strength 10-year-old Laphroaig I have, but it is much more intense than the Lagavulin and Talisker (all but the last being also from Islay; Talisker hails from Skye). It is smoky and crazy phenolic. But in a good way — at least if your palate is like mine – which, luckily, mine happens to be! ;)
And Now…
Your moment of Zen: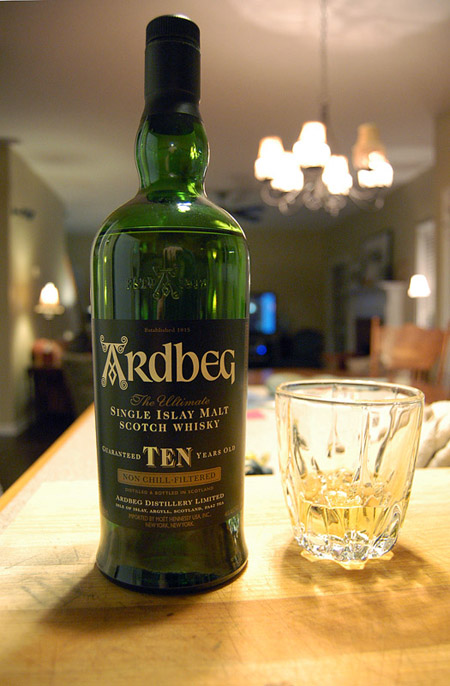 Leave a Reply