This month's session topic – provided by The Ferm – is a great one: The Display Shelf (aka When to Drink the Good Stuff). I am personally a big fan of saving beers for just the right occasion. Okay – maybe I'm not fan; maybe I'm just neurotic.
Any time I brew a beer that seems like it could age well, I save at a minimum two bombers. I open one when it's one year old, the other when it's two years old. In fact, I have a bottle of Hump's Fiftieth Brew that is just over two years old, waiting for the right moment to be opened and consumed. I have a wine fridge that used to hold wine but recently holds only aging home brew. The bottles to its right are the overflow – too many aging bottles to fit in this thing.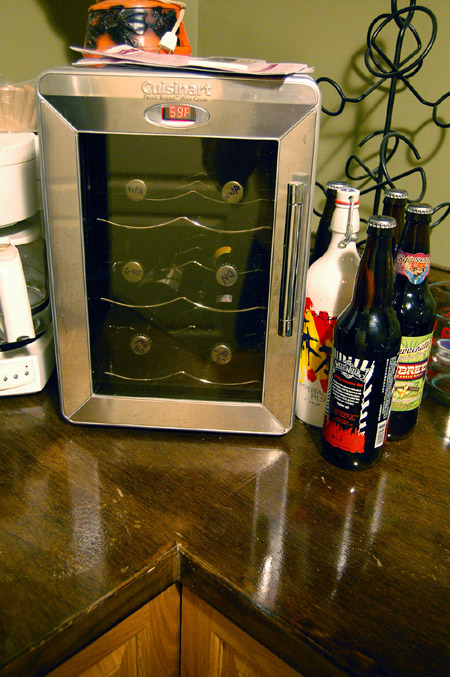 The Stash
I'm also an acquisitive sort when it comes to shopping for commercial brews. I frequently stop by the local fan-frickin-tastic bottle shop (Hop City in midtown Atlanta) to see what's new. They are the only place in town that I know of that will break up six-packs. Other places do something similar, but to a lesser degree – letting you buy singles from a limited selection or making you buy in increments of six. Hop City is much more lenient and enabling for the "I wanna try a little bit of everything" kind of shopper. The commercial selection is generally kept at serving temperature (vs. cellar temperature) and is tucked away in the same fridge that dispenses the home-made stuff.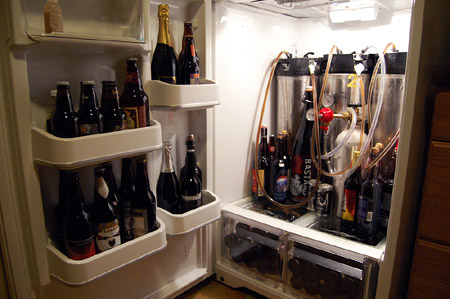 The bottom shelves of this stash feature the older bottles – a few vintages of various beers. Sierra Nevada's Celebration Ale and Bigfoot are most prominent since they are the most recent additions from the 2009/2010 winter season and thus on top. The Weyerbacher Heresy is actually from last year (I haven't bought any of the currently available vintage yet). Buried beneath are various offerings from Clipper City, Dogfish Head, Victory, J.W.Lee, Thomas Hardy, and others.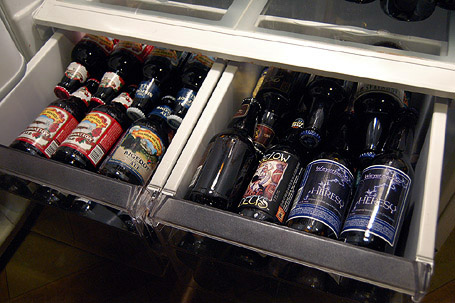 If you were to look closely in this fridge, you'd see that the single oldest bottle contains 750ml of Chimay Grande Réserve from 2001. This was a gift from my brother-in-law. He suggested I hang on to it for awhile. So I did. Next time he and my sister are both out this way, we will open it. I'll have to nab a new bottle, too, and do a vertical tasting. It will be interesting to see how this beer had changed after 10 years of aging (most at cellar to room temperatures, but the last few years at lagering temperatures).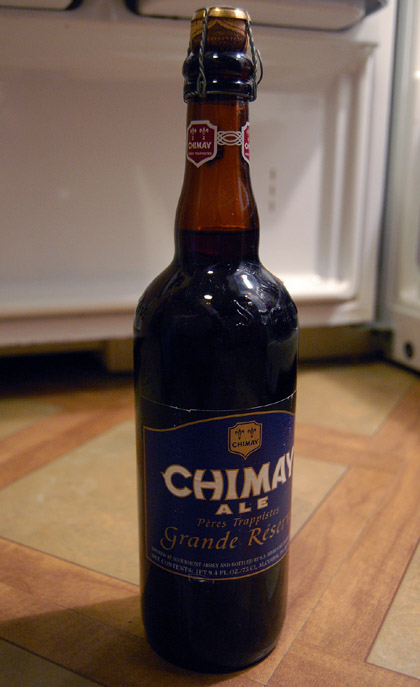 Another interesting option tucked away in here is the jeroboam of Double Bastard. This one is big enough that the "right time" will be when plenty of good friends are around. Perhaps that will be on our next Brew Day — we try to do three batches or so a year where we invite friends over to help brew and to partake of the ever-growing selection. I guess you could call it our "inventory management" function – it's how we keep the selection from growing too big.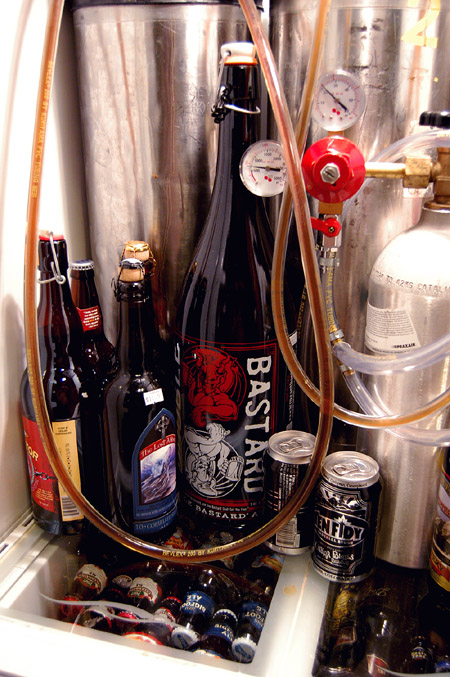 I actually have another stash of refrigerated brews, too – "on deck" if you will. It usually features up to four 750ml or 22oz bomber bottles and up to a dozen 12oz/33cl bottles (okay, sometimes more than a dozen). For these beers, the right occasion is "tonight". This particular night for example, the wife and I split a bottle each of Founder's Breakfast Stout and Founder's Imperial Stout – both quite excellent.
The final area where we stash brews is our unfinished storage area. It's in the basement, so it stays at a decent temperature for aging/cellaring (though a little on the warm side during the summer). Only home-brewed beers live in this part of the house. Currently, we have some Hump's La Brabançonne Grand Cru waiting to be sent off to the Peach State Brew Off (or maybe the NHC – don't have enough for both, so I still have some decision to make there). Those bottles are nearly a year old, but the rest of the bottles in this picture are much more recent. Despite the labels you see, there are no Samuel Adams or Sierra Nevada brews among them.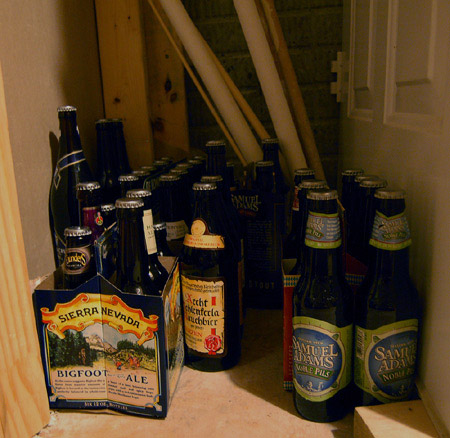 Decisions, Decisions…
Deciding when to open these brews is always a tough decision. We've got enough of a selection, that there is always something interesting to nab almost no matter what we feel like. And yet, typically we just reach for home brew.
For tonight, we celebrate with something newer: a bright, super-hoppy, home-brewed Imperial India Brown Ale that we've dubbed Hump's Back-Breaking Brown. I like to break into the old stuff every once in a while, but when you've got beer that is so good when it's fresh, that's where the hand tends to reach (at least mine do).
So the display shelf gets more and more trophies. And then we invite friends over to beat back the horde before it takes over. Lather. Rinse. Repeat…
One Response to "The Display Shelf"
on March 05, 2010 at 10:48pm

Oh no! Rauchbier! Whitefish in a bottle!
Leave a Reply