Old Humperdink
Several weeks ago, Malin and I did a side-by-side tasting of my recent home-made Old Humperdink Barley Wine against Sierra Nevada's Bigfoot (2010).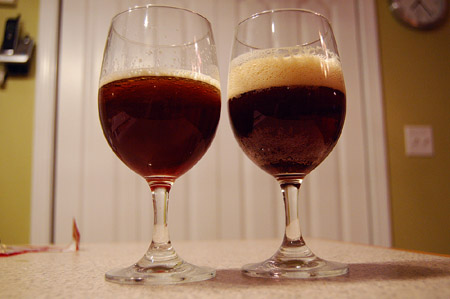 Both beers are very similar in color and clarity. In this photo, Bigfoot is the one on the right – with the bigger foam. Both beers are remarkably smooth and drinkable considering their dangerous strength: 9.6% for Bigfoot and a whopping 10.8% for Old Humperdink.
Both are hoppy, but Bigfoot is noticeably hoppier. It is also richer and more complex in malt character. I wonder how they achieve such an amazing profile – a pleasant blend of breadiness, caramel, chocolate, and residual sweetness. Old Humperdink is no slouch, but it lacks some of the depth – particularly in the hints of dark malt character. Perhaps a touch of chocolate malt should go into the next barley wine we make.
Sierra Nevada's website says that Bigfoot is hopped with the three C's: Cascade, Centennial, and Chinook. Old Humperdink is hopped 100% with Zeus hops (part of the CTZ family: Columbus-Tomahawk-Zeus).
Sierra Nevada is brimming with sweetness and complex malt flavors, but is tempered by an equally huge hop bitterness and immense evergreen and grapefruit hop flavor. Old Humperdink on the other hand is a little more light-handed. Despite our beer being bigger and stronger, it doesn't punch you in the face (or in the palate rather) quite as firmly as does the sasquatch. Old Humperdink has a straight-forward maltiness with some caramel and toffee notes and a very spicy and resiny hop profile that has a touch of evergreen, wads and wads of tropical fruit, and a hint of mint and herbs.
I personally think I have a ways to go before I make a barley wine as good as Bigfoot, but Malin actually liked mine better. I'm planning to send Old Humperdink to both the Peach State Brew Off and to the NHC. I think it could fare pretty well.
Beermuda Triangle Homebrew Competition
Speaking of contests, we entered La Brabançonne Grand Cru, Old Humperdink Barley Wine, and Back-Breaking Brown into the Beermuda Triangle Homebrew Competition, hosted by Hop City, Octane Coffee, and Five Seasons Brewpub.
All three beers made it to the semi-finals (top 20), and Back-Breaking Brown landed in the finals (5th place). The top five finishers, me included, received gift cards for the three hosting businesses. We used the Hop City gift card today.
I plan to use the Five Seasons Brewpub gift card in a few weeks once the winner is on tap. Yes, the winner of the contest gets their beer brewed by Five Seasons and served on draft at the brewpub. From what I heard at Hop City today, it should be pouring in four weeks' time.
Yankee Doodle
We've cooked up three batches of beer so far in 2010. Back-Breaking Brown – an Imperial India Brown Ale – was the inaugural batch and is amazing. We used 1/2 pound of whole leaf hops for that one: Magnum, Nugget, Simcoe, and Chinook. The beer finished at about 8.9%abv, and is deadly smooth for that strength. If I do say so myself, it masterfully blends the perfect amounts of malt complexity, dark malt character, residual sweetness, and raging hop flavor.
The second batch of the year was sort of like a scaled-back version – a hop-bomb American brown ale. We call it Hump's Yankee Doodle Brown. It stands at around 5.8%abv and was made with over four ounces of whole leaf hops: Magnum, Amarillo, Cascade, and Crystal. It has a very pleasant citrus and peach fruitiness to the hop profile, a strong bitterness, and a dry malt backbone that has just enough sweetness to keep the dry bitter finish from being brutal.
Our most recent batch is Hump's Irish Dry Stout. I don't want to rename it again (last attempt was not nearly dry enough, so we renamed it and reformulated a better recipe for this title). But I might have to. It did not finish dry enough. I still want to warm it up before coming to the final verdict (it's at 64 deg.F; maybe 70 deg.F can squeeze out another point or two of attenuation). Either way, it tastes good, so we'll be sucking some down on St. Patty's Day.
Brew day for the stout was a serious pain in the neck. The grist included a decent bit of unmalted barley (1 pound of flaked barley, 1 pound of unmalted roasted barley), and the manifold on our mash/lauter tun didn't like it. After fighting what was almost a stuck mash, we finally got it through. Based on the mash schedule – which included a protein rest and a few decoctions to heat it up to what still amounts to a low temperature saccharification rest – I expected it to attenuate very well. Alas, it was not meant to be. It got down only to 1.015 (shooting for 1.012 or lower). Perhaps a warmer climate will help it finish…
Leave a Reply