The Big Bastard

Other than New Year's Day this week, the holidays are behind us at the hump-house. The whole family had a rather wonderful week. And there are a few exciting things to report on the beer front.
For starters, I received a very pleasant surprise from my folks with the Jeroboam (aka Double Magnum) of Stone's Double Bastard pictured here. My dad thought I could put the giant glass bottle to good use in my own brewing. I don't think he was particularly knowledgeable of the actual beer inside, but it turns out to be damn fine beer.
Somehow I'm going to have to arrange a party in order to actually empty this thing. Three liters of 10.5%abv beer will require more than just a casual evening with just me and Malin. Perhaps I'll break this one out at the next brew day if there is a sufficient crowd to drain it (without impairing anyone's ability to get back home).
Another tricky thing will be cooling it. It is incredibly big and will not easily fit in a fridge due to its height. I think I should be able to squeeze it alongside a corny keg in the "cellar" fridge though. I may have to temporarily remove a few other gems down there to make room.
In case you can't really tell how big this thing is from the picture, below is one that shows the scale a little better. The small bottle next to the big one is a normal 750ml bottle of wine: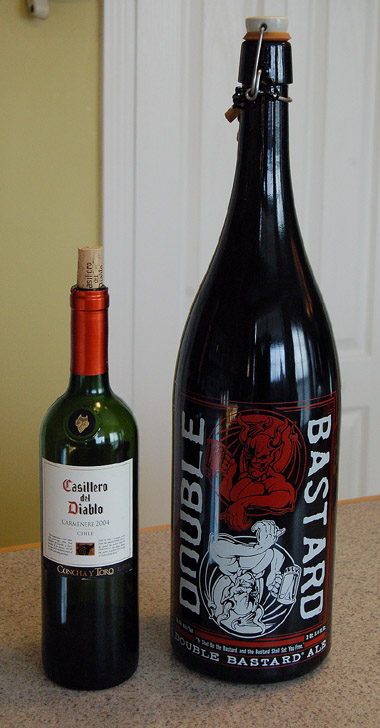 Another wicked thing about this big bottle: it is locked closed with a chain and a small padlock (keys included, thankfully):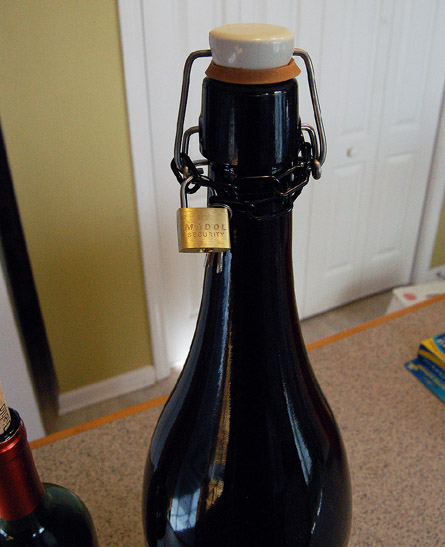 Another Fine Scotch
Another great gift I received this season was a bottle of 10-year-old Talisker. This is one of the malts I've mentioned to my wife (so she must have told her mother-in-law about it).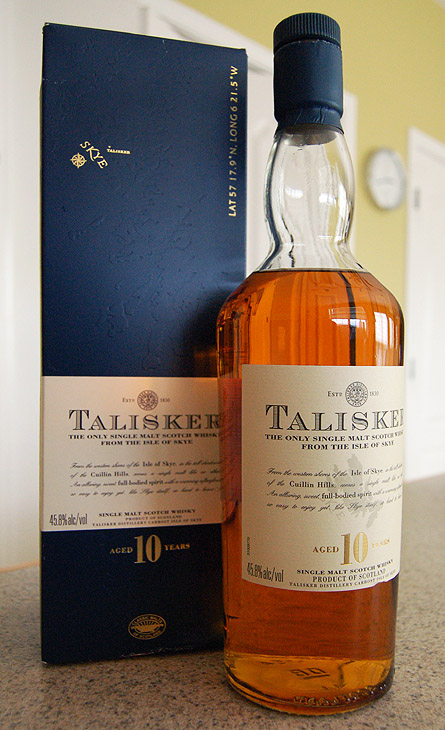 I sampled a small dram of it yesterday. It has a sweetness – almost like a fine aged Rum – and flavors of floral honey. It does have a decent bit of smoke in the aroma, but it is fairly soft in the mouth and only reveals itself towards the back of the palate. It is smoky but not particularly peaty (missing the pungent peat-bog earthiness that can sometimes accompany the smoke). The body is full and velvety. It is a subtler and sweeter beast than the Lagavulin – and much subtler than the Laphroaig. But, despite the fact that it is not an Islay malt (it instead hails from the Isle of Skye), it is not a big departure from the other malts I have. It too is quite smokey. That was one of the reasons I'd expressed interest in it to Malin.
Now I just need to get my hands on the other two Islay malts known for their peculiarly strong flavors (especially in the peat and smoke departments): Ardbeg and Caol Isla. After that I may expand my horizons towards very different Scotch whiskies – like the Macallan.
The Keg Conversion
This holiday season, I've converted a 1/2 barrel keg (standard 15.5 gal Sankey keg) into a new hot liquor tank for brewing beer. Actually Doug, at Just Brew It, did the conversion for me. I dropped the keg off at his store, and he chopped off its top, drilled the necessary holes, installed the new doo-dads (a stainless steel valve and a thermometer), and welded on a carbon heat shield to protect the thermometer: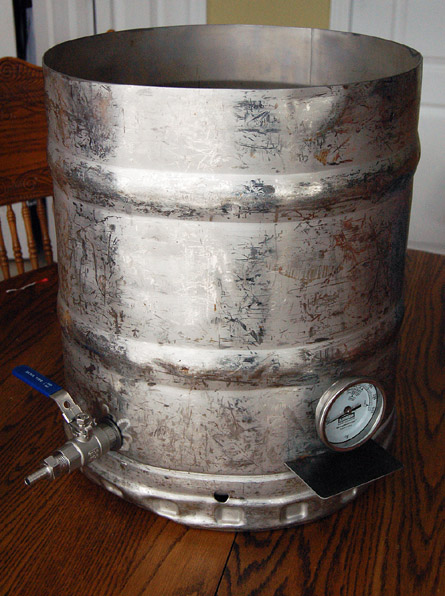 I'm looking forward to brewing with it on New Year's Day.
Recent Brews
Speaking of brewing on New Year's Day, I'm pretty stoked about the recipe. I'm making an Imperial Brown Ale, but based on a hob-bomb brown ale, not a nut brown ale. It will basically be like a Double IPA, but with a darker grain bill to provide a richer malt base with a nutty and chocolaty character.
I currently have this year's Holiday Ale on tap. Hump's Holiday Ale 2009 is a spicy English stock ale. Unfortunately, it is spicier than intended. I will certainly have an even more restrained hand with next year's holiday brew. Fortunately, it is still quite drinkable. It tastes very much like a liquid gingerbread cookie. It is surprisingly similar to last year's Gingerbread Bock, despite using a little spice, a touch of vanilla, and a very different base beer.
I also have my Zeus single-hop barleywine on draft right now. It is freakin' awesome. 'Nuff said.
IPA Battles
On a completely unrelated note: a few weeks ago I did a side-by-side comparison of the two local IPAs — Sweetwater IPA and Terrapin Hopsecutioner.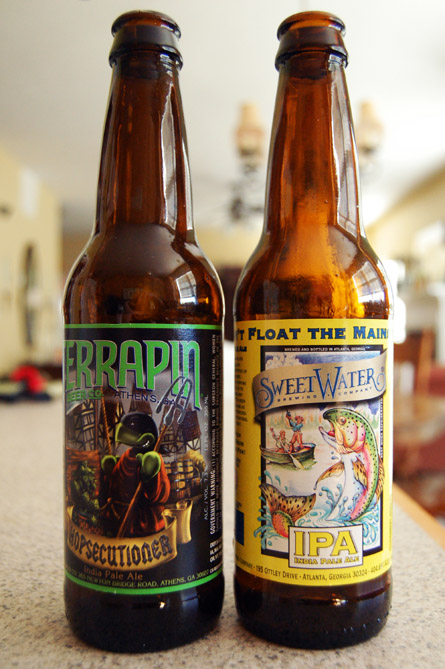 Overall, both beers are fantastic examples of American IPAs. But if I had to pick a winner (which I hate to do since I enjoy both of them very much), it would be Terrapin. The Hopsecutioner has a very pleasant evergreen character to the hop flavor and is a little bit drier. The Sweetwater's hop profile is also very nice – lots of bitter citrus fruit – but is missing the evergreen notes that I personally find quite appealing.
The real verdict: there is no loser here. Georgia residents, support your local breweries and buy more Sweetwater and Terrapin! I'd highly recommend starting with one (or both) of these.
Leave a Reply