Brewin' It Up
Today Hump's celebrated father's day by making what every dad really wants on this day: awesome beer.
Ahhh… Can't you almost smell the sweet wort and fresh German Perle hops?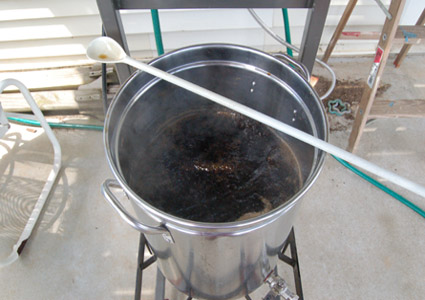 And here we have the spent grains, still sitting in the mash tun, waiting to be pitched into the compost.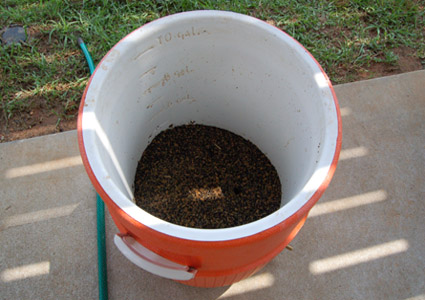 Unfortunately, I didn't get a good shot of the whole brew stand on this outing. But I did get a snapshot of the stand's "control center":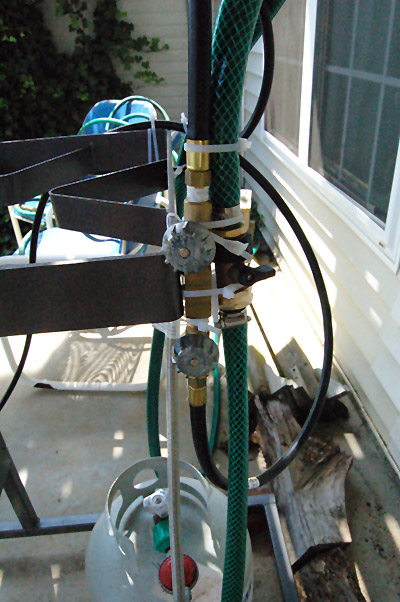 It's a bit hard to tell, but on the right is a valve to turn on/off the water, and to its left are two valves to turn on/off the propane supply. The top valve controls – you guessed it – the top burner (the hot liquor tank as it's called), and the bottom valve controls the bottom burner (the kettle).
My brew-stand is fairly bare bones, and I got it at a steal of a price. Doug, the guy who fabricated it and who also happens to own/operate Just Brew It!, has fancier models that include metal/rigid lines for propane integrated with (i.e. welded onto) the brew-stand. My low-budget fastening method involves flexible gas lines and zip-ties, as you can see from the picture.
Daddy's Day
To celebrate the occasion in style, Malin got me a bottle of 16-year-old Lagavulin. How awesome is that?!
I tried a tiny dram of it side-by-side with the 10-year-old Cask Strength Laphroaig I got for Christmas.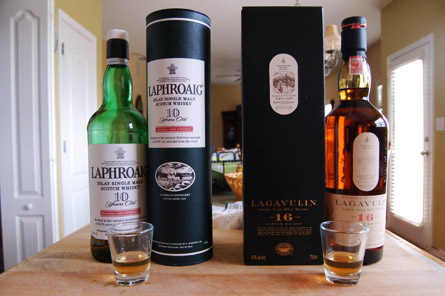 They are both very smoky. When sipped side-by-side, the palate quickly acclimates to the smoke, and you get a lot more nuance from each one.
The Laphroaig is a little warmer – not surprising given its cask strength (55.7% abv). It pours slightly lighter in color with just the slightest hint of green hue. Its flavors feature more peat-moss with notes of salty ocean water and seaweed. The body is fairly velvety with a touch of honey-like maltiness towards the end.
The Lagavulin is smoother and slightly richer. It starts with subtle hibiscus flower and honey up-front and then finishes with touches of dark malt character like slightly overdone toast.
It's hard to pick a favorite. The Laphroaig is more eccentric and a better value (i.e. a less expensive than Lagavulin). The Lagavulin is more straight-forward. I can certainly see how some may show disdain for the crazy range of flavors in Laphroaig, whereas Lagavulin is more refined and sweeter. They are both very smokey, which I think is why I like them.
As both of these were gifts, I need to keep a good thing going by finding a way to get a bottle of Ardbeg as a gift. That will complete my trifecta of what are generally considered to be the strongest tasting whiskeys available. But I'd just as happily accept any other Islay whiskey – Caol Ila, Bowmore, Bruichladdich…
Brickworks
Last night, after taking the family to a birthday party for a one-year-old, we headed over to a new area near Georgia Tech campus: Brickworks at Midtown West. Therein is a fantastic beer and wine shop named Hop City and, right next door, location #3 for Atlanta's very own Five Seasons Brewing.
We made a quick dash into the bottle shop to see if there was anything new and found a new variety of Mikkeller Single Hop IPA. Recently, I found three of them in a local shop, and they were all pretty good: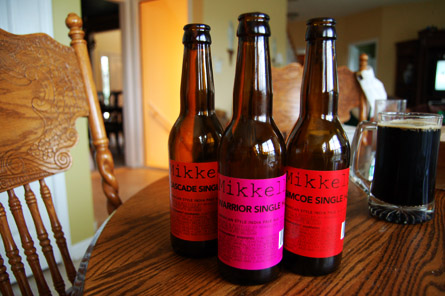 In case you can't read the labels, the picture features their Cascade, Warrior, and Simcoe single-hop IPAs. The idea is that they use the same recipe for each beer, but use a different variety of hops. Each beer uses one and only one hop variety. The Warrior IPA was my favorite, and I'll be on the lookout for Warrior rhizomes next year so I can have some of my own.
The new variety that I found last night is, unfortunately, not pictured. It features a variety of hop I'd never before heard of: Nelson Sauvin. After googling it, I found that it hails from New Zealand and supposedly imparts a Sauvignon Blanc grape character to a beer. It didn't taste like grape to me, but I did notice a slight sourness on top of the usual grassy citrus and pine notes. In any event, a worthy beverage…
After perusing Hop City for new stuff, we went next door for dinner at Five Seasons. My wife and I had mixed impressions of the place. The presentation of their beer sampler was unimpressive and the glasses they used (double-tall shot glasses) are horrible for sampling beer – no aroma escapes the glass geometry which makes everything taste more bland, like tasting a beer with a cold.
Two of the six beers in the sampler were very good: the Venus Belgian White and the Decadent Brown. The others were decent, too, but just not as good. I also tried a pint of their "mild" ale, on cask. It was quite disappointing – too mild in flavor and tainted with a strawberry funkiness.
We had a similar opinion of the food – some bright spots, but not that great overall. The menu looks great – interesting "feasts" (dinners for two), pizzas, small plates, etc. The delivery was a little hit and miss, though.
We ordered a kid's mac and cheese for our older son, and it came out ridiculously over-cooked. Well, I guess kids like mushy noodles, so I guess we can cut them a little slack here.
For ourselves, we had fried sweetbreads over barley-pearl risotto (not bad; we always appreciate seeing sweetbreads on a menu), lamb tenderloin with rosemary demiglace and smashed potatoes (worst value: small portion, slightly overcooked lamb, too much potato, demiglace was a bit weak), and cajun-style grilled ravioli with andouille sausage and crawfish (my favorite – spicy, very flavorful).
We were then a bit disappointed with the service when presented with the dessert menu. They were pretty much out of everything but failed to mention it when they gave us the menus. We had a frustrating time figuring out what they did have. Their home-made ice cream was good, and the fruit was ripe and sweet. The pecan tart – called Coca-Cola Rum Pecan Tart – was too dry, and had not even a hint of rum-and-coke flavor (which I was hoping for given the name). My wife really enjoyed the flourless chocolate cake.
All in all, it was a bit of a mediocre visit. The price was too high for the quality of food and service. The other Five Seasons locations are usually highly rated, so perhaps this new location just hasn't gotten into its groove yet. There are also many other types of food on the menu. So we'll probably return and see if we don't have a better experience. But unless either the beer or food is really great next time (hopefully both), we may not return for a trip #3 since The Porter and The Bookhouse Pub are so close to that part of town…
Leave a Reply