Posted by Josh on November 12, 2008 at 10:16pm
Categories: Homebrews
This year's Holiday Ale was inspired by Tim Burton's twisted tale… okay, not really… but maybe sort of.
After two years in a row of mediocre spiced beers standing in as Hump's Holiday Ale, I've decided on something a little a more interesting and hopefully something a little "safer". Something that still fits with the season – mostly. It still features the same spice angle – the same blend of spices commonly found in pumpkin pie. But the big difference this year is that the beer will feature real pumpkin. And it will be a strong lager.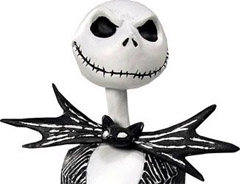 The 2008 Holiday Ale will be a "Pumpkin King" if you will. We bought several pie pumpkins the other week from the pumpkin patch (in addition to the big ones we carved into jack-o-lanterns). With 5-7 pounds of fresh, caramelized pumpkin puree in the mash, this beer should offer plenty of pumpkin flavor – unlike my last (and first) pumpkin beer, which had pretty much no noticable pumpkin quality. The previous beer was a pumpkin hefeweizen, and the banana esters produced by the yeast completely overwhelmed any chance of pumpkin flavor in the finished product.
This one will be a Bock. It will be brewed fairly big for a Bock – perhaps Doppelbock would be a more accurate appelation. Lots of clean, biscuity, toasty, thick, sweet malts married to lots of pumpkin and pumpkin spice. The spicing should be more subdued than the spice monsters I've cooked up over the last two years. I think it will come together nicely.
I'll be cooking it up this weekend.
I'll also be kegging Hump's Credit Crunch Ale this weekend. It turned out nicely. I haven't tasted the final product, but I sampled it after fermentation was pretty much finished last week, and it was nice. Since then, the yeast have fallen out of suspension, and beer is now much brighter. I think it will be a big improvement to the tap list over the current occupant (Honey Nut Ale – a nut brown ale that has a few minor but nagging flaws – at least nagging to me anyway).
I was originally planning to cook up a Smoked Maple Stout as the subsequent batch (in December). But Wyeast has several interesting specialty strains out now, all of them for making good English beers like bitters, brown ales, and milds. So I'm going to cook up a bitter instead. The Smoked Maple Stout will have to wait until the new year. In fact, it will probably be my New Year's Day recipe.
Leave a Reply