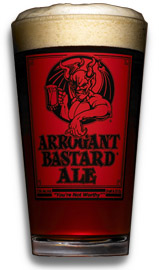 The beers of Stone Brewing are finally available in Georgia, starting yesterday (9/22).
Green's (which owns the two of the best package stores in the Atlanta area for beer selection) has several of their brews, including two I've never had: Stone Pale Ale and OAKED Arrogant Bastard.
A couple of Taco Macs in the area also got their hands on their 11th Anniversary Beer (a chocolate oatmeal stout I believe) and this year's Vertical Epic (8.8.8). I'm hoping to go by Green's tomorrow during lunchtime and snag something special for my sabbatical (four week vacation from work that commences the second I get home on Friday evening).
I sipped down a Weyerbacher Double Simcoe IPA this evening, silently dreaming of more hoppy, west coast-style hop bombs. Providence has delivered. Over the weekend I tied on Avery's Ale to the Chief in search of humulus lupulus delights. Soon I will have a home-made hop-bomb creation which should last me many weeks. Despite the shortage, these are great times for hop heads…
Leave a Reply