There are a lot of fun and cool aspects to brewing beer. One of the most fun is creating labels.
I know the labels I create are hokey, and most of the labels I make are ho-hum and formulaic:
Change the color of the dog's fur and nose to resemble the color of the homebrew
Slap the beer's name on it
Adjust background color and the color of the "Hump's" logo to some scheme that seems reasonable, looks decent, and hasn't been used by a previous beer label (with the exception of the Holiday Ales)
But I do enjoy adding subtle changes, every now and then, as it fits a particular beer – whether it be fitting to the beer itself or just to its name. Examples include the addition of pictures of fresh fruit for the labels of fruit beer, adding "devilish" decoration to the dog for Hump's Hellishly Hopped Ale, adding the Santa Claus hat and snow flakes for Hump's Holiday Ale, etc…
I think I outdid myself this time: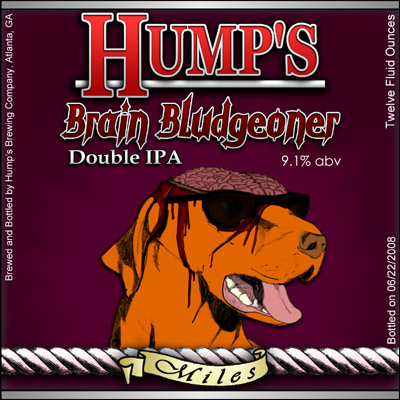 Is that killer or what?!
One Response to "Mmmm, Brains"
on June 12, 2008 at 4:51pm
Leave a Reply