Last Saturday was the first time I've been out to buy beer in some time, so it was exciting to see all of the new stuff that is for sale right now. I was at the Green's on Ponce De Leon (the best beer selection I've ever seen), and I had to pick up some beers as a gift for the hosts of a party which we were to attend that night (a pumpkin-carving party).
I bought a couple of cans of Oskar Blues Gordon IPA and a bottle of Saison Dupont. While there, I drooled over the Victory V-12, Victory V-Saison, Dogfish Head Chateau Jihua, and Unibroue 16. I know none of those are holiday beers or recent seasonal offerings, but they aren't available at the stores in my neck of the woods. I may have to make a trip back to Green's this upcoming week to snag the limited edition brews…

I was pleasantly surprised at the party to see that the host, Rob, had acquired a Sweetwater limited edition beer. At this point I have to comment on the immaturity of Sweetwater's marketing folks. Even when I was still in college, I knew that they were trying to market towards a younger (i.e. college) crowd. Their flagship product, 420, is named after a drug reference (to Marijuana – see here for more info). Their summer offering, Summer Hummer (a Belgian-style wit bier), is a sexual innuendo. And their latest "catch and release" series is named after an incredibly foul sexual manuever: Donkey Punch. Despite the fact that they name their beers in a childish way, I am a big fan of Sweetwater, and Donkey Punch – a hoppy American Barleywine – was not a letdown.
At the party I met another home brewer. This guy does 10-gallon all-grain batches, and he offered to invite me up next time he brews. I told him I would be grateful to come by and see the process. I've read a lot about it and talk with Doug, the owner of Just Brew It!, about all-grain brewing every time I'm in his store. I figured that watching it and experiencing it firsthand would be a good first step before making the investment in new gear for me to tackle all-grain myself (I currently do a mini-mash with about 4 lbs. of grains, and then use malt extract for the remainder of the fermentables).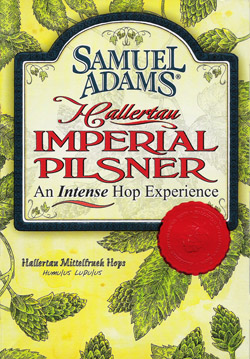 This past Friday, on the way home from work, I made it to my usual haunts for craft beer and picked up a four-pack of Samuel Adams Hallertauer Imperial Pilsner, a 750ml corked bottle of Fantôme de Noël, and a 750ml corked & caged bottle of Ommegang Chocolate Indulgence.
The Sam Adams Imperial Pilsner is absolutely fantastic. I was a bit surprised since most Sam Adams beers tend to fall a little short for me. Although it does not taste like they use 12 pounds per barrel of hops. That is the equivalent of over 30 ounces of hops in a 5-gallon batch of homebrew! And if you were using a high-alpha hop (instead of the Hallertauer Mittelfruh used in the Sam Adams beer) that is still over 6 ounces. For perspective – in case you don't homebrew – a really hoppy IPA recipe would probably use only 2 to 4 ounces of a high-alpha hop. That level of hopping sounds like it would produce the most incredibly unbalanced, bitter beer the world has ever seen. But it is in fact palatable, balanced, and delicious (at least if you're a hophead – which I am).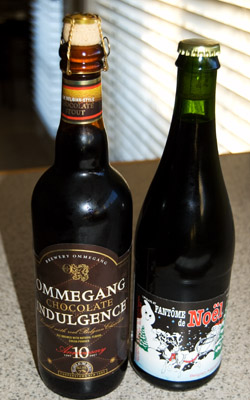 I haven't had a chance to open the Fantôme or Ommegang beers. They are both large bottles of strong beer, so I have to split them with someone. And Malin wasn't up for it this weekend.
I did have another tasty brew this weekend: a glass of Ommegang Rare Vos on draft – a decent abbey-style ale. I also tried a cask-conditioned Imperial Stout from Atlanta Brewing Company. I need to call the place at which I tried it (Tap in midtown) to get the details on it because there is no listing for it yet at RateBeer.com. It was very good – roasted and coffee-like in the aroma, and then roasted, semisweet, and malty in flavor with a hint of savory notes. Its strength was evident in the flavor, too, as the alcohol was quite warming. I wish they would release the brew in bottles as it would make an exceptional winter beer (sipping by the fireplace…).
I'll post again after trying them to let everyone know what I think.
Leave a Reply