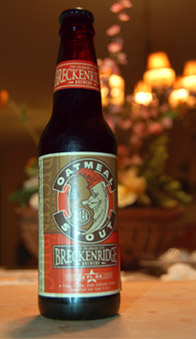 Tonight I tried a Breckenridge Oatmeal Stout. It wasn't the first I've tried, but this was the first occasion where I could really place the taste. It tastes surprisingly similar to my Stout Porter (which was intended to be a dry stout, like a good Irish boy might aspire to make, but it turned out to not be dry).
Though I have not tried them side by side (nor, does it look, will I get that chance), it definitely evokes memories of my homebrew. The aroma of the oatmeal stout is a bit less burnt and hoppy, and the mouthfeel is more bubbly and at the same time more luscious (they cheated and used oatmeal!). Side by side, their differences would likely be evident, but – based only on my sensory memory – I am feeling that they taste like long-lost twins.
In other news, I think I'll brew again this weekend. It has been nearly a month, and I really want something different. The Peachy Ale and Brash Broguish Brute are good, but sometimes it's hard to drink five gallons of a beverage before getting bored and yearning for the next one!
I'm trying to decide what recipe to whip up. It's currently a dead heat between five recipes:
Hump's Bostonian –

A hoppy Vienna lager (along the lines of Samuel Adams Boston Lager)

Hump's Dunkelweizen –

Self-explanatory

Hump's Fat Bastard Ale –

A Strong Scotch Ale, weighing in at around 9% abv

Hump's Hare Krishna Pale Ale –

An English IPA, standing proud at around 7% abv and 58 IBU

Hump's Praying Monk Ale –

An Abbey Dubbel, humbly hovering at close to 7% abv
I said, "dead heat", but that isn't true. I'm actually leaning towards something dark, strong, and sweet – so the Fat Bastard and the Praying Monk have slight advantages over the rest of the pack.
One Response to "A Familiar-Tasting Stout"
on October 12, 2007 at 10:11pm

My vote would be for the Hare Krishna or the Scotch (in that order). I've been hating Sam Adams lately so I guess it's a matter of how similar..
Leave a Reply