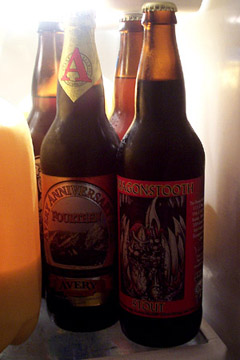 This week my shipment of brews from Seattle arrived. I've got the crafty beers stashed all over the place.
The proprietor of Malt & Vine (the bottle shop in Redmond that shipped everything to me), Doug, even called right after I received the package. He had gotten a FedEx alert that the package had been delivered and called to make sure everything arrived in tact. Now that is good customer service.
Some of the newly arrived brews are in our main fridge. I figured these would be the first to go, so I put the lower-alcohol beers up here. The heavier stuff went downstairs.
Some of the new beers have been stashed into our small wine fridge (we ran out of wine bottles, so it is currently packed with beer bottles – three from this venture and three that have been in there for months). You can see the big bottle of Dogfish Head Fort on display. I tried to put the large bottles in this location (since the fridge was made specifically to fit 750ml bottles).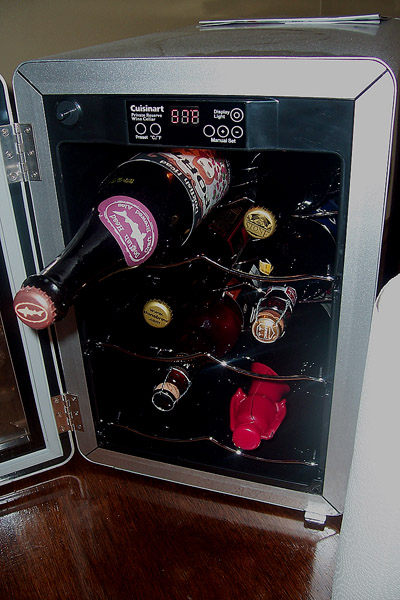 The last of the stash is in "the beer fridge" along with my homebrew. The hoses that are visible in the foreground of the picture, hanging in front of the impressive selection of bottles, are the tubes that carry sweet homebrew from the kegs to the taps.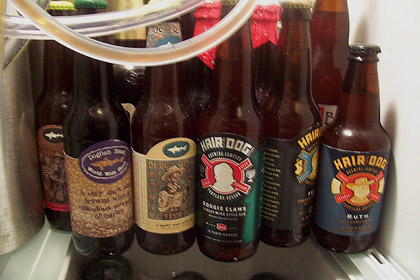 So I've finally made up my mind about Malt & Vine: they are awesome. I still need to give their shop a rating on RateBeer.com (as well as several of the other places I visited while in Seattle). Doug told me that if I wanted to order more to just call him. I asked if they could ship to Pennsylvania (a friend of mine lives there and recently inquired as to whether I knew of good mail-order brew shops), and the answer was "not really."
Apparently they can only ship to Pennsylvania if shipping directly to a retailer. So if my friend can get chummy with the management of his favorite retailer, he may be able to convince them to accept packages on his behalf for brews that are unavailable to the retailer. On the top of the list of those brews are the beers from Hair of the Dog, which are generally not available outside of the Pacific Northwest.
Leave a Reply