This evening I racked the dry stout that I brewed last weekend. It has attenuated decently. At first it had an off-putting aroma that contained some solvent-like alcohol smells, but this was not present in the taste. I noticed this same artifact in the American Schwarzbier, too, but it never surfaced after the beer was kegged. So I'll hope for similar fortune with this batch.
The stout tasted nice and roasty with some decent hop flavor, too. This is a rare occurrence: the recipe I formulated has resulted in a beer that is exactly as I imagined. Hopefully this beer won't change too much after it is kegged – and if it does, hopefully it will be for the better.
Speaking of beers that change after they've been kegged, the Humble Hop Juice got a little too bubbly over the past week. I had the regulator set a little high so that it would force-carbonate quickly, but then I left it like that for too long. So I've now released all pressure from the keg and have turned off the CO2 with the hopes that the excess carbonation will leave the precious liquid. But back to my previous thoughts: the beer no longer tastes as dreamy as it first did. The strong Centennial flavor has grown a little too strong and has hints of sour grassiness. The beer still has a pleasant fresh hop aroma, a decent malt backbone, and a nice bitterness. But the developing hop flavor has pulled this brew out of its spotlight.
On to a different subject: the other day my wife, son, and I ate at a fancy-schmancy restaurant called Muss and Turner's. We were hoping to eat at Doc Chey's Noodle House, but apparently the Vinings location has closed. So we walked to a nearby upscale delicatessen (where we've eaten before and where we knew we could get a tasty lunch). It was actually almost 5pm, but we hadn't eaten lunch that day, so I'll continue to call this meal "lunch". We had very good sandwiches and were pleasantly surprised to see a nice assortment of draft beer – and draft samplers on the menu. So we ordered a sampler – three ounces each of all six of their draft offerings:
Terrapin Rye2 Imperial Pale Ale
Dogfish Head 90-Minute IPA
Dale's Pale Ale
Ommegang Rare Vos
Val-Dieu Brune
La Chouffe
Their draft setup was a little peculiar – none of the beers were heavily carbonated, and most had a subtle buttery flavor to them. Nevertheless, all six tasted good. Warning to those who might seek out Muss and Turner's: it is a pricey place – this sampler alone was $12.50.
Here is a picture of this delectable spread: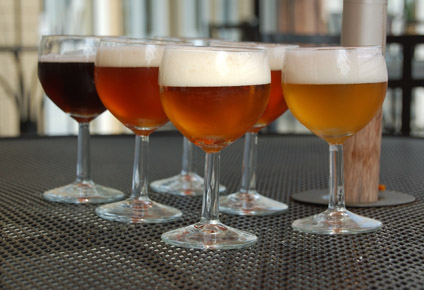 Leave a Reply